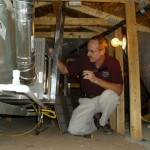 My name is Kevin Shroyer, owner of PrimeSpec Consulting, LLC.  I realize that the home you are purchasing is a huge investment.  Choosing the best home inspection company, like choosing your new home, can be a confusing and a hard decision.  I would like to ask you to consider me for your home inspection needs.  My goal is to give you  peace of mind with your new home purchase by providing you with a thorough assessment of your potential home.  On the day of your home inspection, you will receive a comprehensive home inspection report that is easy to understand with key icons and color photos.
If you will trust me to represent your best interest, I will diligently inspect your home as if I was buying it for my own family. 


Reasons to choose PrimeSpec for your Home Inspection:
 Inspected over 4000 homes in the valley over the last 10 years.
 Professional career includes Architectural Engineering, designing, building, and remodeling houses.
 Arizona State Licensed and Bonded Inspector.
 Over 25 years experience in the building trades industry.
 Brings a level of knowledge, professionalism and quality unmatched in the business.
Why do I need a Home Inspection?
A home is one of the largest purchases that most people will ever make in their lifetimes, and it's important to understand exactly what you're getting before you purchase.  Flaws overlooked or simply neglected by a previous owner can cause a tremendous hidden expense for home buyers, and there are few things worse than buying a home only to unexpectedly invest thousands in renovations or repairs.  A real estate agent and previous homeowners may not be able to tell a potential buyer everything about a house before they buy it, and they could be unpleasantly surprised by flaws in the home.
Why is obtaining a Home Inspection is so crucial?
If you are in the Gilbert and Chandler, AZ area, PrimeSpec Consulting, LLC is able to complete an impartial home inspection and find any issues that the property may possess.  The home inspection will reveal issues with the home's structure, heating and cooling system, foundations, among other pertinent features.
This ensures the house is in top-notch order, has no hidden problems, and will be safe for its inhabitants.  It also ensures that the property is really worth what the buyer is going to pay for it.  If the home inspector determines the property has flaws that need to be addressed, the buyer may be able to negotiate a more reasonable price from the seller.
What Can A Home Inspection Tell Me?
Before purchasing your new home, an individual should seek the service of a qualified home inspector in your area to reveal concerns that may make the home undesirable, including:
Problems with the roof
Flaws with the interior structure of the walls, ceilings, or floors
Issues with the foundation
Moisture damage and decay
Plumbing and pipe concerns
Some types of flaws are easily repairable or can be comfortably overlooked by homeowners.  Other issues, however, can cause major concerns.  For example, if a home has a foundation problem or has water damage from a deteriorated roof, there is no way to resolve the problem without major repairs.  That will be something the potential homeowner will need assessed prior to purchase.
When should I get a Home Inspection?
People may be willing to handle minor repairs themselves, but by obtaining an inspection by a qualified home inspector, Gilbert and East Valley residents can make the best choice for their individual needs. The home inspector should definitely be consulted once a person is interested in a property, but only before any agreements or deals are made between the homeowner and the real estate agent. This ensures a buyer won't be stuck purchasing a home that will require hidden substantial work.
For a local home inspection, call a certified home inspector in the Gilbert and East Valley area (Mesa, Chandler, Queen Creek, etc.) – PrimeSpec Consulting, LLC at 480.570.5615 or click here. With over 25 years in the building trade industry, a Certified ASHI home inspector, and availability to inspect your home seven days a week, you can trust the expertise of PrimeSpec Consulting, LLC!
I am 

available to inspect your home 7 days a week.
 For a personalized service, please call me to schedule an appointment at 

480-570-5615