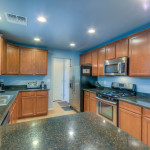 DIY projects are all the rage. Some are designed to improve your home's curb appeal while others are designed specifically to improve the functionality of your home. The cheap and easy home improvement ideas I have for you today will add value to your home whether you plan to continue to live there or sell it in the near future.
Kitchen
1.       Kitchen Cabinet Decor: Chalkboard paint may be used to create a chalkboard cabinet door for quick notes to your family. Backsplash tiles can be added to the fronts of cabinet doors to complement other decor.
2.       Refinish or Replace Kitchen Cabinet Hardware: Hardware can become very dirty and discolored over time. Clean it thoroughly and refinish it with paint or replace it for a quick and easy upgrade.
3.       Kitchen Backsplash: Install a backsplash that complements the rest of your kitchen. Consider a custom backsplash in the form of a photo wall or similar.
4.       Organize the Pantry: The pantry is often difficult to organize because we tend to let things stack up. Install a pantry organization system and organize the foods and other items in the pantry.
Bathroom
5.       New Toilet: A new toilet will do wanders for your bathroom and save water to boot. Toilets newer than five years use much less water than older models.
6.       Bathroom Backsplash: Install a backsplash by the bathroom sink, and carry that design over to the shower to tie the room together.
7.       Refinish Bathroom Cabinets and Hardware: Stain or paint the bathroom cabinets for a completely new appearance. Install new hardware or paint the existing hardware to complement the new color scheme.
8.       Refinish the Bathroom Door: The bathroom door probably hasn't been refinished, painted, or replaced in years. Refinish the door and replace the hardware for a more modern appearance.
Closets
9.       Install Closet Organizers: Closets are very big selling points for today's homebuyer. The closet organizer is a major upgrade even if you have no intention of selling your home because closets can be overwhelmingly untidy.
10.   Improve Closet Lighting: The closet doesn't always have good lighting, but this is where most of us choose our clothing for the day. How many times have you chosen your clothing, gotten dressed, and then decided you look hideous once you look in the mirror? Install proper lighting and a full length mirror in the closet so you don't have to worry about it.
11.   Install Robe Hooks: Robe hooks are a lovely way to keep up with your robe, but they can also be a great place to hang your belts, scarves, purses, and other accessories. Make the most of your vertical space in the closet.
Improving different areas of your home not only improves your quality of life and the functionality of your home, it keeps your home in tip top shape should you decide to sell. Give me a call at 480-570-5615 if at any time during your home improvements you decide you want the expert opinion of a home inspector. I can show you all of the different areas that need attention before you plan to put your home on the market.