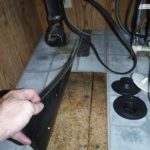 When a person is looking to purchase a home, they can feel excited, nervousness, frustrated and much more. With all of these emotions happening, it is no wonder that many homebuyers do not notice potential issues with the house that they want to buy.
Here are 7 potential problems that homebuyers should look for when purchasing a home:
1.       The number one thing that homebuyers should look for when they are looking at a house is whether or not there are any structural or foundation issues. Any major cracks in the foundation or doors that are difficult to close may mean that thousands of dollars may be needed to eventually repair the structure of the house.
2.       No new homeowner wants to share their house with insects or other bugs. While certain bugs may not cause major concerns, ones like termites and carpenter ants can pose a problem. They can chew through the wood and drywall in a house and cause significant damage.
3.       Potential buyers should ask who did any repairs or renovations in the house. Most of the time, the person who is selling the house will try to a lot of the work themselves. The problem is that they are usually not qualified to do the work and this means that there could be a problem with the finished product. All plumbing, electrical and carpentry do it yourself jobs should be looked at carefully.
4.       If the neighborhood does not look like it is in good shape, then a potential homebuyer should reconsider purchasing the house. The house could depreciate in value over the years and be difficult to resell.
5.       Stains on a ceiling or a wall can mean that there is a water leak. Repairs for these issues can cost thousands of dollars and take a lot of time.
6.       If a person is looking at purchasing an older home, then they need to look at the electrical. Old electric panels and wiring usually need to be replaced in order to safely use all of the appliances and other technology that families use today.
7.       If there are any smelly or musty odors in a bathroom, attic, basement or other areas of the house, then there is a chance that there is mold in the house. Sometimes the mold cannot be easily seen because it is located in the walls or the ceiling.
People who are looking to buy a home should be aware of these potential problems, so that they do not need to spend additional money once they have purchased a home. No one wants to have to spend thousands of additional dollars, because of an issue that they could have avoided. Give me a call at PrimeSpec Consulting at 480-570-5615 if you would like to discuss the ways a home inspection could help you or schedule an appointment with me.