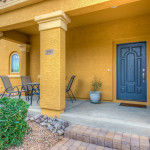 Whether you need to improve the curb appeal of your home due to recently wanting to sell or just to improve the look of your home there are many ways to get the results you want. You could spend a lot of money if you aren't careful, and it's really easy to do, but with these helpful tips you will be able to improve your home's curb appeal without breaking the bank in the process.
1.       Refinish your front door – The front door is one of the first parts of the house to be seen; this sets the tone of the home and gives the first impression to visitors, so you want to be sure your front door is welcoming and lovely. Refinishing an outdated door is quite easy and can be done in just a few hours. This project should cost right around $50 making it inexpensive yet adding a lot more appeal to your home. While you are refinishing your front door now is the time to consider upgrading the hardware too. Another $50 can update the locks and handle, and give the entire entry door area a fresh appeal.
2.       Build window boxes – This is another simple weekend project that will add color and personality to your home. These simple little boxes can be filled with your favorite flowers or plants; how lovely would it be to plant strawberries in the box outside the kitchen window? The possibilities are endless.
3.       Replace your mail box – Regardless of the type of mailbox you have, if it is old and outdated give it a fresh new look. Try sprucing up you post by adding flowers around the bottom or even a small garden flag. If your mailbox is older it could be time to replace it with something more attractive.
4.       Paint the entire home – This is a much larger project, but still relatively inexpensive if you do the work yourself. If your home is older looking with faded or chipping paint no amount of renovations outside will help, consider giving your home a face lift so-to-speak with a fresh coat of paint. Bring your home back up to a modern look and feel with a new color scheme.
5.       Wash it – If your paint still looks good all your home may need is a good scrub down. Your home sits out in the elements all year, so getting dirty is inevitable. Rent or purchase a power washer and give that old house a good cleaning; really make it sparkle.
6.       Welcome seating – Nothing catches people's attention like a welcoming front porch, a place they can imagine sitting in the morning sipping their coffee. Make the front porch a welcoming area with comfortable seating and maybe even a few container plants.
7.       Clean up the yard – If your grass is looking less than appealing or you have bare spots in your lawn it is a good idea to get those all filled in and touched up. A bright green healthy looking lawn is more appealing than a half dead bare spot covered lawn. The other part of this tip would be to keep the lawn mowed as well; a lawn that is over grown will not appeal to anyone.
These are just a few tips that I've found go a long way toward improving a home's curb appeal. Whether you're planning to sell your home or you're simply sprucing it up, these tips are a budget friendly way to improve the overall appearance of your property. Give me a call at 480-570-5615 if at any time during your home improvements you decide you want the expert opinion of a home inspector.