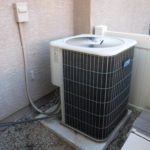 While you should have a maintenance contract with a professional air conditioning technician, you should also know about caring for these devices. Your air conditioner does much more than keep you cool all year, it keeps the air you breathe clean and free of dust. Here are five tips that every homeowner, whether they live in Gilbert or the surrounding areas should know.
The Thermostat
Always check the thermostat to make sure that it is working. If the thermostat is old, upgrade to a newer version, preferably one that you can program. With programmable thermostats you can easily set the temperature higher when you are not at home or turn it on at set times from a computer or even a Smartphone.
The Filters
The filters need to be changed often or if they are reusable cleaned at least once per month during periods of heavy use. The manual will show you were the filters are and how to remove them. When filters are dirty this can result in allergies flaring up and even cause asthmatics to become sick. Dirty filters also force the air-conditioning unit to work harder than it should.
Clean the Vent
It is equally important to clean the air conditioning vents frequently. Dust gathers on these vents and is spread around when the unit is on.
The Condenser Fan and Coils
It is important to keep the outside of the air conditioning unit clean. Turn off the power to the unit and check the fan to see if it has any cracks or heavy dirt on the blades.  If the fan blades are damaged, you should have them replaced. If they are dirty, clean them as they will work more efficiently.
The coils are sometimes overlooked because they are outside the house. However, when they become dirty or get blocked by foliage, their capacity is reduced. It is important to cut back hedging so there is airflow to and from the unit. To clean the coils, you need to turn off the power and use a garden hose to wash away debris such as leaves and dirt. You have to avoid getting the electrical components wet. Only turn the unit back on when it is completely dry. For this reason, you should clean the coil on a very cool day so that the lack of cooling inside the house will not be uncomfortable.
Of course you need to have a processional to do a thorough job at least every three or four months. A trained technician will do some of what you do as well as check coolant or refrigerant levels and refill if necessary. It is a good idea to have a professional HVAC technician give the air ducts and vents a thorough cleaning at least once per year.
Home Inspections in Gilbert
I see a lot of issues with air conditioners here in the Gilbert area because people aren't familiar with the proper maintenance required. Give me a call at 480-870-5615 if you're in need of a home inspector whether you're buying a home, selling a home, or returning to the area from your summer home.