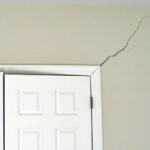 I did a home inspection on a house in Gilbert, AZ that had cracks in the concrete slab and interior walls that appear to be from water getting under the foundation causing the soil to expand. This is common in areas with expansive soil such as Phoenix and the surrounding areas.  Expansive soil is a type of soil that expands and contracts based on its moisture level, and it can damage the structural integrity of homes. One way to help minimize the damage caused by expansive soils is to have the house build with a "Post Tension" slab. Many of the valley builders started using post tension slabs in the early 2000s.
Concrete is very strong in compression but it's relatively weak in tension.  This means that a concrete slab can be prone to cracking due to deflection, or bending, when the earth under the slab sinks or becomes unstable.  Post-tensioning is a method of strengthening concrete using high-strength steel strands or cables.  Post-tensioning steel cables inside plastic sleeves are positioned in the forms before the concrete is poured.  Afterwards, once the concrete has gained about 75% of its designed strength, but before the walls of the house are constructed, the cables are pulled tight, or tensioned, and anchored against the outer edges of the concrete.  Unlike conventional rebar, which only helps keep the slab intact after cracking, post-tension cables continually contribute to the structural integrity of the home.
Benefits of post-tensioning over standard reinforcing steel rebar:
It is designed to exacting standards, code requirements and has an excellent performance record and offers increased reliability.
It allows builders to build slabs on expansive or soft soils.
It reduces or eliminates shrinkage cracking—cracks that do form are held tightly together.
The structural capacity and the slab stiffness are increased so that the slab is better able to resist bending caused by differential soil movements.
Since the cables in the slab have been stretched to high tensile strengths, it is extremely important that you do not cut, drill or do anything to expose the cables.  Cutting one of these cables can result in costly damage to the slab and house.  Cables have been known to shoot out of the side of a building when cut.  An easy way to verify if the slab is post tension is to look along the concrete below the garage overhead door for a stamp warning "Post Tension Slab Do Not Cut or Drill".
In areas with expansive soils it is important to remember to keep the soil sloping away from the foundation. This goes for both traditional foundations and post tension slabs. The soil should slope a minimum of ¾" per foot and should extend away from the foundation 4 to 5 feet. Also plants that require water should not be planted against the foundation.
Have a question about your homes structure? Send me an email at Kevin@PrimeSpecConsulting.com.