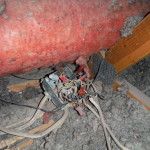 Put the pen down and back away slowly! Hire a home inspector before you sign on the dotted line and discover later that the perfect home has serious flaws. A general walkthrough while you're looking at the home isn't enough proof to justify spending the asking price for any type of property. Do yourself a big favor and hire a professional inspector before you make the leap to homeownership.
What Does a Home Inspection Cover?
A home inspection is more than a general walkthrough to look at the functionality and structural integrity of the home. A certified inspector will follow a checklist and look at every part of the home from the roof to the foundation and crawl space (or basement). Our job is to make sure, based on our professional opinion, that the home is safe and all functional areas are working properly.
We inspect the overall exterior and interior of the home including:
Light switches
Electrical outlets
Heating and air conditioning systems
Insulation
Ceilings
Attics
Doors
Fireplaces and chimneys
Roofing
Plumbing
Appliances
Foundation
We verify that each of these areas of the home is safe and in working order on the date of the inspection. There may be areas of the home that I cannot get to, and I will make notes on the report to indicate that the specific area has been skipped, and why. For example: if the attic is blocked by heavy boxes or other large items and I cannot access it inspect, I will make a note of it on the report and recommend the seller make the area accessible and have it inspected prior to the end or your inspection period .
What Should You Do After the Inspection?
I will provide my written report with pictures after the inspection is complete. My process is very easy to read and understand. I am as detailed as possible when making notes on problem areas. Your next step would be to contact a professional who can handle the repairs if necessary. For example: if I find an indication of water damage in the laundry room, you may choose to hire a plumber and/or contractor to track down the cause of the damage and estimate
Don't Buy Without an Inspection
If you've already signed the contract and are within the inspection period, it isn't too late! I can still inspect the property, and if issues are discovered, you may choose to either live with them or terminate the purchase contract. That decision is entirely up to you.
If you're in the Gilbert, Arizona area or the greater Scottsdale – Phoenix area, and in need of a home inspector, call me at your convenience 480-570-5615. PrimeSpec Consulting, LLC is a locally-owned home inspection service located in Gilbert, AZ. My goal is to give you peace of mind with your new home purchase by providing a thorough assessment of your potential home.