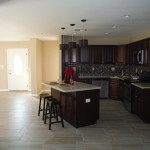 I get it; buying a newly remodeled home could take a lot of the stress out of buying and remodeling almost immediately. I mean the new work surely involved experienced contractors, professional electricians and plumbers, and inspections as the permit requires, right? Or did it? The newly remodeled kitchen may look amazing and you can see yourself in there creating culinary masterpieces, but you could be setting yourself up for disaster if the electrical and plumbing aren't up to par.
Remodeling Without a Permit
Many homeowners choose to renovate their home before putting it on the market. This is fine as long as the work is done to professional standards. Many home improvement renovations do not require a building permit, such as:
Changing flooring from vinyl to hardwood
Replacing kitchen cabinets
Replacing all appliances with new units
Painting or wallpapering the walls
Installing new light fixtures
Installing new sink faucets
Replacing in-kind windows and doors
If you're thinking that this looks like a lot of work, you're right. This type of work makes the kitchen look almost new without the use of a building permit. But if you were to remove a load bearing wall between the kitchen and dining room to install a kitchen island, you would absolutely need a building permit. Any type of modification that puts the structural integrity of the home at risk requires a building permit and the necessary accompanying inspections at critical stages. Make sure any newly remodeled home you view has been remodeled to code and using the proper building permits.
Fees and Penalties for Remodeling Without a Permit
Fees and penalties will vary based on the type of work that was done. Additional repercussions may include the demolition and subsequent rebuilding of the work. This more than doubles the costs involved in the initial renovation. Always ask about permits and such before you make an offer on a newly remodeled home.
Buying a Newly Remodeled Home
Buyers should always pay close attention to newly remodeled homes for a variety of reasons. The seller may be trying to hide the true condition of the home behind a lovely facade. New primer and paint can hide the ceiling circles that would indicate a leaky roof or the new flooring in the bathroom may be hiding past water damage.
The best way to detect potential issues in a newly remodeled home is to hire a home inspector. Allow me to fully examine the home from top to bottom, inside and out, and I'll provide you a fully detailed inspection that outlines any potential problems being hidden behind that pretty new coat of paint or under those nice new cabinets. Call me at 480-570-5615 to discuss hiring me to inspect any home you're considering purchasing.