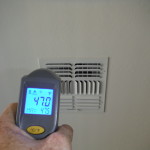 Now, there's more to this question than simply checking to see if you can see your breath in August. Consider the question itself; we're talking about effective cooling, but at the same time let's consider efficient cooling as well. After all, an airstrike is an effective way to deal with a spider in the bathtub, but probably not the best choice. Let's look at how that relates to the air condition unit in your home or in a home you're considering purchasing.
Having Trouble Staying Cool?
A bigger unit may not be the best solution if your home simply isn't staying as cool as it should. Standard industry practice typically recommends 1-ton of refrigeration per 600 sq-feet of cooled floor space. Honestly, however, this is well overpowered. When constructing an energy-star certified home, or retrofitting a home to achieve that same rating, a typical unit in good working order can easily operate at 1-ton per 1,000 sq-feet of cooled floor space. Therefore, if your home is under cooled, even when maxing out your unit, there are more effective solutions than merely upgrading your unit.
What can be done?
In order to solve the problem, one must address the actual problem instead of putting a bandage on the symptoms. There are many reasons it may be difficult to cool a house: inefficient windows, poor insulation, a leaky building envelope, poor quality or leaky duct work, and poor placement of air vents can all minimize the impact of your cooling unit on your home. As we've already seen, a typical unit can effectively cool at 1-ton/1,000sq-ft. This means that if your system was designed for the standard and far less efficient ratio of 1-ton/600sq-ft, and you're still experiencing cooling difficulties, likely the solution lies in those other issues and does not require you to upgrade your cooling unit.
The benefits of a consultation?
A leaky home with poor duct work will cost you more, day after day, year after year. By hiring a professional HVAC technician to assess the home's cooling needs, and identify potential system deficiencies, you are maximizing the benefits you receive from your unit. Of course it is possible that your system is underpowered, however it's far more likely that a host of effective, and significantly less expensive, solutions are available to you. A professional consultation can identify and isolate the various contributing factors that lead to an insufficiently cooled home. Furthermore, a specialist can itemize possible solutions, allowing you to tailor the corrections process to suit your needs, personally and for your budget as well.
What Can You Do?
As is so often the case, a licensed, experienced, well established HVAC specialist is the best way to assess the needs of your particular home. A specialist has no motivation to sell you unnecessary products, as their reputation relies on quality work at an honest price. Only your local professional HVAC specialist has the tools, knowledge, and abilities to accurately assess your cooling situation. Additionally, only that same professional has the skills to ensure that the corrections they make will serve you and your home for years to come. So why not explore solutions to your cooling issues. It's better for the environment, better for your comfort, and ultimately much, much easier on the wallet.
If you're planning to buy a home in the Gilbert or Scottsdale area and would like to have an honest evaluation of the property, including the functionality of important appliances, call me at PrimeSpec at 480-570-5615. We'll schedule an appointment for a full home inspection that will aid in helping you discover potential risks when purchasing a home.