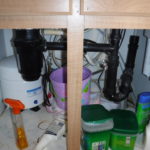 There's nothing worse than arriving back to your winter home after a relaxing summer than finding that the property is not ready to be inhabited. Being gone for months at a time means there is time for an unwatched, empty home to develop unexpected issues. To make sure your home is winter ready so you can arrive to no surprises, hiring a home inspector can be a great solution. Here are a few of the things that I would look for when I inspect your property.
Mold and Mildew: Mold in your home can be very dangerous, especially for people who are very young, elderly, or have breathing issues. Even when it isn't dangerous, mold and mildew can be indicative of a larger issue in your home, as well as creating an unpleasant environment to live in.
Plumbing: What could be worse than coming home from an extended time away to toilets or water lines that aren't working properly? Home inspectors take the time to look for any leaks, check water pressure, and make sure that plumbing based appliances are working properly.
Electrical Systems: Electrical is one of the most important utility systems in your home. Inspectors will check your electric panel and circuit breaker to make sure that everything is working properly, as well as checking receptacle for overload or short circuits.
Basements and Crawlspaces: Basements and other spaces under your home can be especially susceptible to moisture problems. I will look for signs of dampness and test the levels of moisture present. In addition to deteriorating building materials, moisture in the structure of your home can attract insects.
Give me a call at 480-570-5615 if your winter home is in Gilbert or the surrounding areas and you would like to have it checked out before your return. I have seen some of the damage caused by an unseen leak while the homeowner is away for several months at a time. I want to help ensure that your home is in proper working order for your return so that your winter home is as comfortable and functional as your summer home up north.