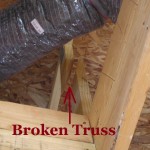 Many home buyers (and some agents) believe newer homes don't need a home inspection.  New houses can be plagued with hidden defects.  I do agree that in a perfect world you should not need a home inspection on a new house.  But the reality is things are overlooked, sometimes corners are cut, and other times there is just bad workmanship.  Did you know, city building inspectors do not test electrical outlets, run the A/C, or even go into the attics?  Most of the problems I find when performing a home inspection on a house less than ten years old would have been addressed by the builder; if only the original buyer would have had a home inspection done when they purchased the house.  Finding out about builder defects after you have bought the house can cost you thousands of dollars in repairs down the road.
I have performed many one year builder warranty inspections and new home inspections that had major issues.  Most home owners never go into the attic and that is where I find many of the issues. It is not uncommon to find a broken roof truss or a leak in the roof that was only visible from the attic.  I was contacted by one of the agents I work with to do an inspection on the townhouse she bought in Gilbert, AZ as an investment and was now selling.  See did not have me inspect the house when she bought it because it was new and felt the builder did a good job.  She was surprised when I asked her if the electric bill was high during the summer because she has no insulation in the attic.  She now recommends to her buyers that every house needs a home inspection.
Electrical safety issues are another area I often find problems.  Most builders and city inspectors do not test the electrical outlets.  It is common to find outlets with reverse polarity or a GFCI (Ground Fault Circuit Interrupter) protected outlet inoperable or missing.  I find houses less than five years old that the original buyer added ceiling fixtures or exterior outlets.  Many times the added fixtures are improperly wired off of an existing circuit or the fixtures are not properly mounted.  Although the electrical issues are typically easy to repair, having faulty outlets or wiring can result in electrocution or a fire if not corrected.
Other common problems found on newer homes include broken roof tiles, cracked and damaged stucco, water leaks below sinks, and doors or windows that do not properly latch / lock.  Remember, most builder warranties will take care of major issues within the first 5 to 10 years.  You don't want to find out about defective items when you are ready to sell your home years from now; the costs of repairs may sit solely on you.