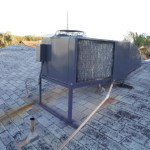 Homes have a finite lifespan, and individual components will start to deteriorate at different times. Upkeep is not a top priority for every homeowner, and sometimes it is a matter of affordability. Big problems have a way of stopping house deals in their tracks. If you are looking at major repairs, you will have to seriously consider whether the house is worth the cost. Of course, there is always the chance that you can negotiate a better deal if big problems are present.
There are many good homes on the market with few or minor issues, if any. On the other hand, some problems seem to crop up more than others do. Let's take a look at some things to look out for when you looking at homes to purchase.
Plumbing Trouble
This should hardly come as a surprise to you, as everyone has the occasional leak. Sometimes the problems with plumbing may be serious, however, so pay attention to any signs of leakage. Plumbing issues can cause big problems such as mold, rot and structural weakness.
Dirty Chimneys
Chimneys and fireplaces need to be cleaned regularly to help them work efficiently. Some homeowners do not pay as much attention to these areas as they should. While getting a chimney specialist to do a cleaning is easy enough, damage to the structure or internal components will drive up your expenses. Make sure to get a professional to take a look as well since there are issues you may miss.
Malfunctioning Heating and Cooling
These devices are not meant to run forever, and some people ignore the warning signs that they are nearing the end. In a few cases, the owners simply did not respond to new code requirements, although this generally does not affect the functioning of the system. Do bear this in mind when buying a home that has previous owners. Do not be afraid to ask for maintenance records or even the name of the company that does the maintenance. Poor maintenance is usually the cause of most HVAC issues. Some people only make service calls for this equipment when it starts to give trouble. However, scheduled maintenance can boost efficiency, and lead to fewer breakdowns.
Poor Wiring
This can be a potential fire hazard, so you will need a detailed inspection before proceeding with a home purchase. Again, amended building codes may be the culprit. The circuit box may also be inadequate based on the size of the home. Your usage will also affect the size. Get a certified electrician to look and assess what may need upgrading.
Exterior Issues
A few people ignore exterior maintenance as well, so this is something you will have to be on the lookout for if you are in the market. Check the paintwork thoroughly as well as external features such as the roof and drainage. Ultimately, if you know what to look for when you want to purchase a home, you can save yourself major problems later on.
Home Inspection in Phoenix, AZ
If you're planning to buy a home in the Phoenix or Gilbert area and you've seen some of the warning signs mentioned above, call me at 480-570-5615 for an official inspection. I'll be glad to lend a professional eye and let you know if your initial findings are reason for worry.