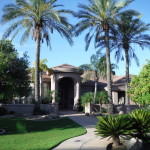 If you are in the market for a house and you're not planning to build, you could be looking at one that is at least a few years old. The problem with buying a house is that you can't always tell right away if there are underlying problems. Many people have put themselves in difficult situations after buying homes without first consulting qualified home inspectors. You can't know all that you need to know about a house without having it properly checked first.
If you are thinking about buying a home, the seller should have no problem with you doing a walkthrough. You might not be an expert, but there are a few things that you should definitely be on the lookout for.
The Property: This can affect many of your decisions in the future. Is there enough space to add a room or two? Is the grade too steep to walk on comfortably? Would the yard be able to accommodate a pool if you decide to build one?
The Windows: The size and condition of the windows play a role in your overall comfort. They should be big enough to let in enough natural light. Preferably, they should not be so old that they lack modern energy saving and UV protection features. The positioning of the windows is also important, and you should make sure they all open and close easily. For some buyers, this is not a major sticking point, as window replacement is not generally an overly-expensive home improvement project.
A Working HVAC System: Installing an HVAC system can be expensive and it can sometimes be inconvenient for homeowners. It is better to start with a working system and avoid the hassle of dealing with contractors if you need to move in right away.
The Walls and the floors: These usually have telltale signs of structural problems, so you should look them over. Any cracks you notice could be a sign of a weakness in the structure or the foundation. A fresh coat of paint could be hiding these types of flaws, so a little caution can't hurt.
The Roof: This is one area where a detailed inspection is essential. However, you can still do a quick assessment. Walk around the house and look for loose or missing tiles. From the inside of the house, you should look for signs of moisture on the walls or ceiling, as this will indicate a leak.
While there are a number of things you can look at on your own, you should not buy a house without a professional inspection. As a homeowner myself, I understand how important an investment this is; it is your home after all. I will help ensure that you are getting value for every dollar you spend to buy a house.