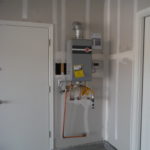 Have you been thinking of switching to a tankless water heater? If you answer yes, then you need to look at the pros and cons of these before buying one. While there are many good reasons to buy one, you may find that it is not the best choice for you right now.
Good Reasons to Buy a Tankless Water Heater
Energy Savings: One major reason to buy a tankless water heater is the energy savings. Some sources put the energy savings from using this heater at up to 50 percent. The number of people striving to reduce their carbon footprint makes them a very popular option for hot water.
Life Expectancy: No one wants to have to replace a water heater unless they have to. Tankless water heaters tend to last longer than the tank versions. Most sources state that the life expectancy of a tankless unit is 20 years while the tank version usually lasts between 10 and 15 years.
Space Savings: Since they do not use a tank, the tankless water heaters save space in the home unlike the conventional types that need to be installed in the right spot. No need to dedicate a specific area in the crawlspace or a mostly-unused closet for a large water storage tank.
Disadvantages
The main disadvantage is the possibility of buying the wrong size for your needs as you may be stuck with it for a while. To prevent this, you should have a plumber help you in sizing the unit before buying.
A couple of years ago, the main disadvantage was the cost to buy one upfront, but these days, the cost is affordable by any standard and offers a good return on investment. However, they still cost more than conventional water heaters that use a tank.
It takes about 10 seconds before warm water comes out of the faucet, while a convection heater will have hot water instantly coming from the faucet since it stores the hot water in the tank once it is turned on.
Tankless water heaters may have some output limitations, unlike the tanked types, but this depends on the size of your family and the types of activities taking place simultaneously. A 40-gallon tank unit may be able to provide hot water for a number of persons taking a bath, laundry being done and the dishwasher going all at the same time.
Overall, a tankless water heater is a better option if you can afford the initial purchase and installation cost. Talk to a local plumber to get expert help in sizing and getting the best tankless water heater for your home.
Give me a call at 480-570-5615 if you're considering purchasing a home and are in need of a home inspector in Gilbert or the surrounding areas. You'll receive my normal hand-written home inspection report complete with any issues that may need repair before the purchase.