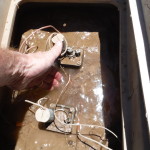 Here in the Phoenix / Gilbert area I always include the inspection of the lawn sprinkler system as part of my Home Inspections. Conserving water is an important thing for homeowners today, not only for the environment but also the wallet. Oftentimes, people just naturally assume that it costs a great deal to keep a healthy lawn and garden, so they don't look at their water usage in that area. It's easy to look out and see sprinklers going, and assume that everything is going well. It's a major mistake to just fold your hands and assume all is working well without taking a closer look as to what is going on. With that in mind, consider a few notes on ensuring your sprinkler system is running correctly.
Look for Flooding or Puddles
First and foremost, make sure that you run your sprinklers and pay close attention as to where the water is going. Look for large puddles and flooding as indicators that something is wrong or that you may leave them on too long at any given time. You'll have to be vigilant about this, because you may not immediately see water puddles on top of your dirt. You may start to see it coming from below. If you see that there's an issue, and you can't immediately get to it, mark it with something, as you may need to dig and repair some of the piping. Do not just assume it's normal, because it's not. This could send your water bill skyrocketing over time.
Broken Sprinkler Heads
Periodically check for sprinkler heads that are broken, or are failing to come up. This can cause a backup in the water or force out water to flow in an inefficient manner. You want to be on top of this as well. Common issues with sprinkler heads can be fixed, if you catch them early. If you have multiple broken pieces, or you are dealing with several elements that aren't rising, you may need to replace your entire network. Keeping alert as to any of these issues will definitely help you get moving forward with relative ease. Do not just shrug it off or assume that one down is not going to be a big deal.
Dry Spots
Another way to denote whether or not your home's sprinkler system is working is in regards to dry spots. You have to look for dry areas because that will indicate that water is not getting to that area. If you have a sprinkler head nearby, and you aren't getting water evenly flowing, then you have to replace or reconfigure things. Large dry areas, despite having a full sprinkler system in place, are a warning sign. Don't let that go for too long, as it can be repaired, and help ease your water bill a bit.
Valve Box
Once a month you should remove the cover to your sprinkler valve box or boxes. During my home inspections I often fine water has been leaking at the valve for a while without the home owner knowing it. Also check the wiring from the timer. If a wire comes loose it will cause one of the zones to stop working.
At the end of the day, keep watchful eyes over your lawn and water. A sprinkler system failure isn't always easy to catch, but if you look at a few warning signs, you can at least move forward with changing things up and saving money in the long term.