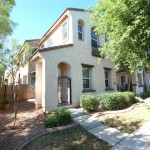 Some people will stop at nothing short of outright deceit to sell a house. It's my job to discover potential problems before buyers become trapped in a mortgage on an unworthy home. Here's a list of several things you can look for on your own before you call me for a full home inspection in the Gilbert or "East Valley" area.
The Ceiling: Spots on the ceiling could indicate a leak. Water damage often leads to rot, mold, mildew, and structural instability in severe cases.
The Floor: Uneven or cracked flooring throughout the home is an indication of possible floor heaving or damaged subflooring. Pay attention to the floor covering as well. Loose floor tile, wrinkled carpet, and warped hardwood flooring are also indicative of water damage.
The Smell: Pay attention to the smell throughout the home. A home that has been empty for a while will have a distinctive smell but it should not smell musty. Any type of musty or mildew smell could be signs of water damage.
Windows: Windows should not be cracked or broken and the trim around them should be in good repair. Flaky or chipped paint around the windowsill could be due to water intrusion. Make sure the windows are at least double paned and in good condition with no air leaks.
The Roof: One layer of shingles or other roofing material is preferred. Two layers are okay. Three layers are against code. Stand where you have a good view of the roof and make sure it looks sturdy and only has one or two layers of roofing material.
Appliances: Broken appliances will need to be repaired or replaced as soon as the purchase is complete. Check to make sure all appliances are in working order.
Foundation: Cracks in the foundation compromise the structural integrity of the home and may be expensive to repair. Excessively damp soil around the foundation could indicate poor drainage or a leak somewhere.
Old Wiring: Electrical wiring codes change about every five to ten years. Old wiring may still function properly, but if it is not up to code, you may want to update it before you move in for additional safety.
Exterior: Make sure the exterior of the home appears to be in good repair. Vinyl siding should not be cracked or show signs of obvious oxidation. Block and brick walls should not be chipped, spalling, or cracked. Stucco siding should be real stucco, not synthetic stucco which can be very expensive to repair and maintain.
The home buying process looks like a perfect scenario on the movies. A couple walks into the perfect home, finds no defects, signs on the dotted line, and they live happily ever after. Please remember that in real life not all transactions can be that flawless and sellers often do somewhat deceitful things to make the sale. If you find yourself in need of a home inspector in the Phoenix area, call me at 480-570-5615 to schedule an appointment.