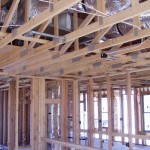 As a home inspector I am often asked "is this a good home builder?" or "what you think of this home builder?"  After having inspected homes from the frame up, from many of the big and small builders here in the valley, I believe the most important part of building a home is the superintendent.  I have been to different communities from the same builder and have seen a night and day difference in the quality of the construction. 
Another factor in the quality of the home is when it was built.  If it was built during a housing boom like in the mid to late 1980s or in the mid 2000s you are likely to find more problems.  When times are good for the builder they have to hire more inexperienced workers to keep up with the demand.  They also have less time to inspect each house and keep an eye on the subcontractors.  J.D. Power and Associates New-Home Quality Study shows customer satisfaction has been on rise for the last several years.  This is not surprising due to less homes are being built and only the best superintendents and subcontractors are being used.  According to J.D. Powers the biggest issues homeowners have are; landscaping issues, exterior paint, and kitchen cabinet quality/finish.  This tells me most homeowners have never been on the roof, in the attic or had the electrical outlets tested for proper wiring. Otherwise cosmetic issues would not have been their biggest issues.
I would never tell a customer not to buy a house based on the builders past reputation.  One of the best things you can do when looking at a house, next to having the home inspected by me, is to talk to some of the neighbors.  They will let you know if there have been problems in the neighborhood or with the home owners association.  On more than one occasion I have had the neighbor come over during a home inspection and tell me the history of the house, the neighborhood and even the previous owner… sometimes too much information is shared!