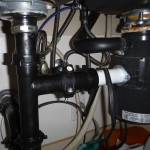 Every home comes with maintenance and the older the home, the more work it generally needs. Plumbing problems are among the most common maintenance concerns for homeowners. These can be as simple as a clogged toilet or a major emergency like water gushing from a broken pipe. If you're like most people, you will have a few basic tools in your home toolbox. These might be enough to do some quick fixes if you know what you are doing. The truth is some sudden plumbing problems may not require a service call and may be addressed quickly using tools you have available.
Start With Basic Maintenance
You might have a regular maintenance schedule for most parts of your home, so you should not ignore the plumbing. Simply put, catching a leak early can save you from paying huge repair bills later on. Regular maintenance does not have to hit you hard in the pocket either. You can perform a few of these checks yourself, and occasionally a professional can do a more detailed inspection.
For example, here's a simple trick for checking if your toilet tank is leaking water into the bowl. Pour a non-staining colored liquid like into the bowl. If after thirty minutes the color looks paler, then water is clearly running into the bowl. All you need is a quick trip to the hardware store to pick up a flapper. You can easily put this in yourself, so there is no need to call a plumber, and you may even notice a slight decrease in your water bill.
Quick Fixes
Even if you have never tackled minor plumbing problems before, you might be surprised at how easily you can deal with some of them. Here are some common plumbing troubles that you should be able to resolve quickly.
Low water flow: mineral deposits in water can eventually build up in showerheads and faucets. Remove the showerhead or the faucet aerator and soak it in a water and vinegar solution for a few hours.
Slow drains: when you have to use the plunger repeatedly, there could be some deposits in the line causing a blockage. Using a commercial product should help, but avoid using it too often, as it can cause damage to pipes and seals. A baking soda vinegar solution is another good way to clear a blocked drain. If the drain becomes blocked again quickly after treating, call a plumber for help.
Leaky connections: when screwed in connections start to drip, turn of the water main and remove the pipe. Wrap it in a few inches of threading tape, also called plumbers tape and reconnect it. This may hold for a long time, but sometimes this is a temporary solution, in which case you will need some help.
If you want your home to get good grades in a home inspection when it comes time to sell, cover all your bases. Problems with plumbing are often easy to deal with, so it makes sense to get ahead of them. This will also mean one less thing to worry about when thinking about the upkeep for your home.