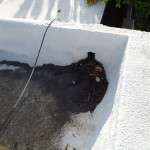 I understand that the Gilbert / Phoenix area doesn't typically see a lot of rain, but the triple digit temperatures are back and with them come the monsoon rains. Then the skies turn grey, I know we all breathe a sigh of relief. The temperature will drop some, even if it's only a few degrees, and the dust will settle for a few hours. The lack of rain most of the year makes us forget about our gutters or scupper drains and over time they can build up with debris from trees and dirt. When I am performing my home inspections I often see homes with blocked drains. Have you cleaned yours out recently? Or has dirt and debris blocked it? Here are a few things you need to know about the guttering system on your home.
Gutters Collect and Move Water
First and foremost, you need to have gutters properly installed at the end of your roofing. Water hits the fascia and drains down the sides of your home if the guttering is missing. As moisture hits the siding and trim, you will end up with leaks and water damage in vulnerable areas around your home. Gutters should not be an afterthought, they should be well placed alongside the ends of the roof, and they should carry water to a downspout and away from the foundation.
Downspouts Redirect Water
Gutters feed into downspouts that take away water, and redirect it into storm drains. If downspouts are missing, the water that goes into gutters spills into your yard, and your foundation could be damaged. Remember, water erodes over time, so it doesn't take long to crack the foundation, leak into a basement or crawlspace, or flood the landscaping into a mess that will cost you a lot of money to repair. Downspouts help carry water away from your home, and when installed correctly, will become lifesavers.
The Clean Out
So we've decided that gutters and downspouts are an absolute necessity to protect your home, right? Now you have to make sure that you maintain them well. You have to clean them out and test them from time to time. A malfunction in the system can lead to serious problems for your home.
A poorly maintained system will easily fill up with water or block water from going into the right direction. Downspout blockages cause water to back up and become very heavy as more water collects. This could cause the gutters to fail and fall away from your home, causing serious damage in the process and leaving exposed wooden areas vulnerable.
Even if you're in an area that doesn't get a lot of summertime rain, it's important to make sure they are still properly installed and maintained for the sake of your home's exterior. Guttering and downspouts are one of the primary problems I run into with everyday home inspections. I've inspected several homes that do not have a guttering system at all. I usually find other related problems with the home as well. So do yourself a favor and make sure that the guttering system is taken care of for the duration of the time that you own your home.